You can apply to us by filling in an application online at www.studyinfo.fi. There are application periods to Karelia UAS several times in a year. The joint application to degree programmes conducted in English in universities in Finland is organized in January.

Karelia UAS also organizes separate applications frequently. You find the application deadlines and all necessary information concerning applications on this page.
Joint Application to Higher Education on 7 — 20 January 2021
Karelia UAS offers two Degree Programmes in English in 2021:
- International Business
Degree obtained: Bachelor of Business Administration (BBA), Tradenomi (AMK)
- Industrial Management
Degree obtained: Bachelor of Engineering (Industrial Management), Insinööri (AMK)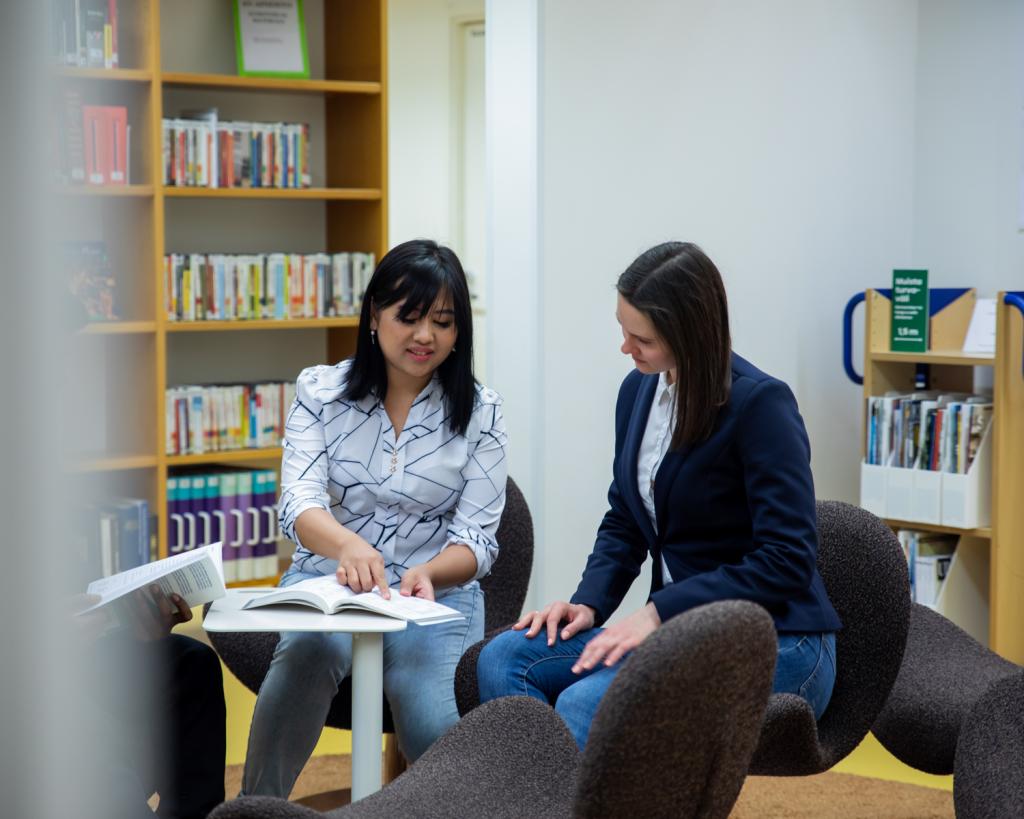 Submit the online application during the application period, by 20 January 2021 at 3 p.m. Finnish time at Studyinfo.fi. Application to Karelia UAS on Studyinfo.fi is free of charge. In order to be accepted as a student, you do not necessarily need to use agents but you can also apply independently by using the online information available on our websites.
You will receive a confirmation email once you have submitted the application. Please, make sure your email account is not full and check also your junk mail.
If you are in a refugee or in a refugee-like situation and unable to submit documentary evidence of your qualification, Karelia UAS may invite you to sit an entrance examination. You must have an official decision attesting to your refugee status (a decision on asylum or a residence permit granted on the basis of a need for protection). Read more about the required certificates.
Upload the requested attachments to your application form by 27 January 2021 at 3 p.m. Finnish time. See further information about the requested application documents. Remember also to upload the pre-task assignment if you are applying to Degree Programme in International Business and are going to participate in the Online entrance examination.
You will be contacted by email when
further information is need
you are invited to entrance examination
a study place is offered to you.
Invitations to the entrance examinations will be sent by email. Sending schedule:
Online entrance examinations: end of January
Finnips online entrance examination: early February
Entrance examinations in Finland: middle of March.
Entrance examinations are held between February and April. More information about the entrance examinations can be found from our website. Other student selection methods are also in use, please see Student Selection Methods.
Results of joint admission will be published by 4 June 2021 at MyStudyinfo. You may follow your admission status at MyStudyinfo. You will receive an email notification when a study place is offered to you.
Confirm the offered study place, pay the tuition fee (if applicable), enrol yourself as a present or absent student for the academic year 2021–2022. Read more at Accepting the study place.
At Karelia UAS the tuition fee for non-EU/EEA students is 5 500 euros for a study year. The fee for the degree of Bachelor of Business Administration completed in 3.5‑years is 19 250 euros and for Bachelor of Engineering completed in 4 years 22 000 euros. There are some exemptions from tuition fees, for instance to students with long-term EU residence permit in Finland. Read more about the tuition fee and scholarship system.
Karelia UAS uses several student selection methods. Applicant can choose to which entrance examination he/she participates. If you have completed the SAT test, you may apply with the SAT test result. Certificate-based student selection is used also. Please find further information about the student selection methods below. In case of any questions, please contact Admisisons Services (admissions@karelia.fi).
Online entrance examination
Entrance examination in Finland and
FINNIPS online entrance examinations
SAT test
Certificate-based selection.
Entrance examinations
Read more about the entrance examinations. If you need special arrangements for the entrance examination, fill in the Application form for special arrangements the and send it to Karelia's Admissions Services by 27 January 2021. See the instructions on how to send confidential email to Admission Services
SAT test
Apply during the application period. Applicants do not need to participate in the entrance examination, student selection is made by the SAT test results only. Karelia University of Applied Sciences' Designated Institutional Code is 7782 — Use this code when you want your test scores to be sent to Karelia UAS.
Only the new version of SAT test (completed after March 2016) is accepted. SAT Subject Tests are not accepted. An official SAT score report must be ordered straight from the test organiser. Those, who have already completed an SAT test, must request a test result from the test organiser to be delivered to universities of applied sciences. The results of the SAT test must be delivered to all those universities of applied sciences that use the admission criteria in question by 10 February 2021. Reports printed or sent by the applicants themselves are not accepted.
Karelia UAS uses following sections, Evidence-Based Reading and Writing and Math, in the student selection process. An applicant applying with a SAT test result must have completed both sections with a minimum score of 500.
Evidence-Based Reading and Writing minimum 500 points
- Reading Test
- Writing and Language Test
Math minimum 500 points
The lowest accepted SAT test result is 1000 points. Applicants are accepted in order of best points.
Further information about SAT test and SAT test dates on College Board's website.
Certificate-based selection
Karelia UAS' uses certificate-based student selection with following degrees:
1. Finnish Matriculation Examination
2. Internationall Baccalaureate Degrees (International Baccalaureate IB, European Baccalaureate EB, Reifeprüfung- (RP) / Deutsche Internationale Abitur (DIA) degree)
3. Finnish Vocational Upper Secondary degree (completed after 1 August 2015, information available in Finnish)
Results of certificate-based student selection will be published in early February 2021. Applicants graduating in spring 2021 are not selected based on certificate-based student selection. Detailed information about scoring models are presented for each degree. If you are graduating in spring 2021 or have completed some other international baccalaureate degree than mentioned above, the student selection method will be either entrance examination or SAT test result.
The results of the admission are announced by 4 June 2021 at the latest on My Studyinfo.fi and by email from Studyinfo. In the Joint Application to Higher Education on 7 — 20 January 2021 you can be offered several study places. You can accept only one study place leading to a higher educational degree in Finland in a education that beginning in a same academic term. Read more about the one study place per term provision. Students on a waiting list will be accepted as study places are released until 2 August 2021. Study place is released for example when an accepted student gets accepted to a study programme higher on his/hers order of preference list or the student decides not to accept the offered study place. Read more about the results of joint application.
Please see further information about the appeals.
Accept the study place by 16 July 2021 by 3:00 p.m. Finnish time electronically at My Studyinfo.fi. If you are granted admission from reserve list, follow the deadlines shown on My Studyinfo.fi service. You can only accept one study place per term. See the instructions on how to accept a study place.
Acceptance of a study place can be binding or conditional. You cannot change the confirmation you have made afterwards. You can confirm the study place either electronically with the link that is sent to your email from Studyinfo.fi or in the My Studyinfo ‑service. Applicants who accept a study place will not be considered as first-time applicants in future admissions to higher education.
After you have accepted the study place, you need to register as a student for the academic year 2021–2022. The deadline is the same as for the acceptance of the study place. Read more about the registration.
We have gathered important information to support your start of studies at Karelia to New Student's Guide. Read it through carefully — don't hesitate to contact us for further information!
The studies start in August/September 2021 (Wärtsilä Campus, Karjalankatu 3, 80200 Joensuu) with an orientation to studies, get-together events to meet students and staff, an individual interview with a counsellor and with a tutoring teacher.
Original school certificates used as a basis for applying will be verified during the two first weeks of studies in August. Therefore, you need take your original certificates with you at your first day at university. Students enrolling absent, need to verify their original certificates at the beginning their studies. The student admission is conditional until the copies of the certificates and the original certificates have been verified.